Originally, the house was a small cottage on the Abercarn Fawr farm estate, owned by Thomas and Mary George, who also owned Maes Mawr farm and the Darren farm at Risca and a plot of land at St Woolos, Newport. It is said that the house has been a school and a chapel in its day but we have no record of that.

The original beams in the kitchen/family room indicate
a building date of mid 17th Century.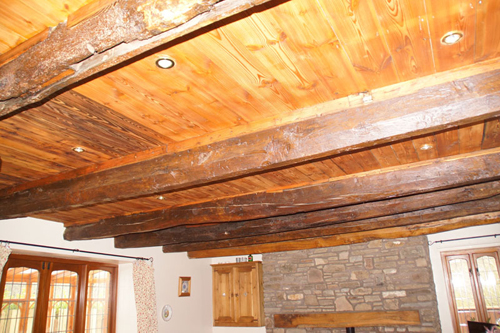 In the late 1700's some of the farm's land was compulsorily purchased to create the reservoir (also known as Roger's Pond) to feed the the Monmouthshire Canal . More land was released for the creation of George Street as housing for miners. There is now no sign of the original farm buildings.
The Georges were members of the Old Moriah Baptist Church in Risca. Thomas senior suffered injury after a violent burglary at Maes Mawr Farm and died in 1831, aged 53. Their eldest son, Thomas, died in 1839 and, after Mary's death in 1848, their son Lewis inherited the property. It passed from Lewis to his daughter, Dora Emma, whose husband Charles Wilkie died in the first world war.
During the early 1900's the house was leased to various miner's families before being sold in the 1920's. By the time the Thomas family bought the property in the 1940's it was in a very poor condition. The thick oak partition which split the main room into living space and two storage rooms was still in place - as were the large inglenook fireplace and winding, stone stairway curling up behind the fireplace to the next floor. All the remaining land around the cottage was sold by the Thomas family, leaving just the cottage and its grounds.